Catawba Valley New Horizons Band
New Horizons began in Hickory under the direction of Len Allman in September 2009. Initially we were under the umbrella of several different non-profit agencies but became a non-profit organization in 2015. What began as a band with 7 members grew to include the band, a string orchestra and 2 smaller ensembles. Pre-covid, we were at about 60 members. We are excited to see old and new members, both beginning and seasoned players, returning as we continue to make music together.
The Catawba Valley New Horizons Band includes brass, woodwind and percussion instruments such as; flute, clarinet, saxophone, trumpet, French horn, tuba, baritone, trombone, and all kinds of percussion instruments to name a few.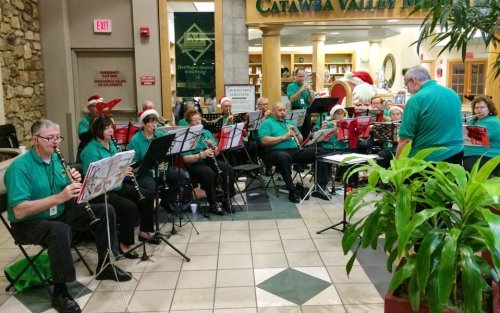 Because we play all kinds of music, there is something for everyone.
We meet September through May. We have two, 16 week semesters, with tuition being $150.00 per semester.
We also perform several concerts a year.
We meet Wednesday mornings from 9:00am-11:30am in the rehearsal room at The SALT Block, 243 Third Avenue NE, Hickory, NC.
Please come join us! See the "Contact Us" section for more information. We are happy to answer any questions.
Leonard "Len" Allman is the founder and conductor of Catawba Valley New Horizons Band. Len has a Bachelor of Arts in Music Education from Calvin College and a Master of Music in Brass Pedagogy from Western Michigan University. Len has taught band and orchestra in Illinois, Michigan and North Carolina. He has performed locally with the Western Piedmont Chamber Orchestra, the Unifour Brass Ensemble and the Lenoir-Rhyne University Wind Ensemble. Len was also the brass instructor at Catawba Valley Community College.
For Band: Karin Blanchard
For Orchestra: Karen Sain
* Catawba Valley New Horizons Music is a 501c3 non-profit.